Shared Workspaces and How They Benefit Mental Health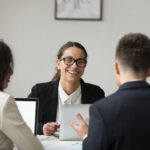 Mental health is an important issue. One that should be taken quite seriously when it comes to
working and your work environment.

Due to COVID-19 working from home became very common. Even now in our post-COVID
society, many employers have their employees work remotely. While it has proved to boost
productivity, time management, and work/life balance for some. For others working remotely
has taken a toll on both their productivity and their mental health.

Shared workspaces spaces such as Wolf Law Chambers offer a great solution for
lawyers, paralegals and mediators companies that may find it hard to make connections and interactions due to the isolation of working remotely.
Using facilities such as ours can prevent loneliness. Working in isolation all day, every day can be draining. While working in a shared space you may not be part of the same company/team,
but you are able to have friendly interaction with a people in the common areas. This can bring joy to your day and reduce stress.

Stress and anxiety naturally occur when you are lonely. Going hours on end without speaking to
another person, overworking yourself, or stressing about deadlines can really get to you. In a
shared workspace environment you have the chance to interact, and you can even
run ideas or worries by like-minded individuals in similar fields. This creates a sense of
community that will ease your mind.

While working from home is good for some employees' work/life balance. Others find it
increasingly hard to split time between the two. In some cases working from home means you
are either unproductive due to the distracting things around you or you overwork yourself due to
the fact that you are only 10 feet away from your desk at all times. Being able to "clock in and
clock out" can help some employees that feel as though their home is no longer their home, but
a stressful work environment. Working in an office can also provide peace and quiet with limited
distractions that one may need in order to complete their work.

A shared workspace where individuals can interact with each other, share
their ideas, and communicate their stresses will help improve their mental health. These
employees will feel more willing to come to work, they will take fewer sick days, as well as be
able to create friendships where they can bounce ideas around. The problems that they may
have faced while working alone will be easier to handle when they are around others. Shared
workspaces like Wolf Law Chambers can be a great solution, that give multiple benefits to someone's mental health.

Wolf Law Chambers offers one-day offices, conference rooms, and executive offices that are
fully serviced. It is the perfect place for individuals or small firms that need a space and are on a tight budget. We have offices in Downtown Toronto, Oakville, and Mississauga. Visit our
website www.wolflawchambers.com for more information about our spaces.

Wolf Law Chambers Private Offices will help you to save time, money, and effort, so you can
focus on winning cases and growing your business. Our team will provide you with a wide range
of services, making us the right choice for your office needs.