4 Signs You Need a Private Office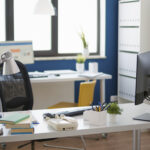 Working from home sounds great. You can do your work, get some chores done, cook dinner, keep your dog entertained, the list of possibilities is endless.
Eventually lines can get blurred. Work takes the back seat to all of the other distractions you have in your home. Meetings seem impossible and the only daily interaction you have is with your pets. It can go from this great option to a really difficult one pretty quickly.
Here are 4 signs that you need to get back into a private office.
You Are Getting Easily Distracted at Home
Being able to work from home sounds like the best of both worlds. Unless you are easily distracted. You have the option to fold laundry, watch a show or make snacks. Before you know it you have no time left in your day for your work. Your productivity is at an all time low. If this sounds like you, a shared workspace with a private office could be an amazing option.
You Crave Human Interaction
Working from home can get lonely. The office banter, collaborating on ideas or just a simple "hello" in the lunchroom means more than you originally thought. Sure some people can get on your nerves but in the grand scheme of things, being around like minded individuals helps elevate your mood and productivity. Joining a shared workspace will create a community of passionate,career driven people in similar careers.
You Need A Professional Image
Meeting potential clients at home or in a coffee shop doesn't feel like a professional option. Having a space dedicated to your business with a professional business address, private office space, waiting areas and boardrooms can really boost your image.
You Need A Better Work/Life Balance
This goes hand and hand with distractions. Some people find themselves doing too much housework while working from home. Others find themselves working non-stop. Both of these things can create a stressful environment. Home doesn't feel like home anymore, or work seems pointless. Being able to get out of the house and go to the office gives you a sense of structure. The benefit of renting your own space is that you don't need to do a strict 9-5. You can go to your office part time and choose your own hours.
Working from home sounds easy. Roll out of bed, put on your slippers and hop on the couch with your laptop and cases to review. But, it's not always all what it's cracked up to be.
At Wolf Law Chambers we are here to help you with your work/life balance, professional image and human interaction. We offer one-day offices, conference rooms, and executive offices that are fully serviced. It is the perfect place for individuals or small firms that need a space and are on a tight budget. We have offices in Downtown Toronto, Oakville, and Mississauga.
Wolf Law Chambers Private Offices will help you to save time, money, and effort, so you can focus on winning cases and growing your business. Our team will provide you with a wide range of services, making us the right choice for your office needs.
Visit our website www.wolflawchambers.com for more information about our spaces.