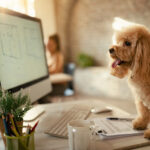 We are in a new era, animals are becoming more and more common in the corporate world. Especially dogs. Who doesn't love a dog? They boost everyone's mood and create a happy environment even on the most dreadful work day.
With that being said not all pups are office ready. Every employer and shared workspace have their own set rules regarding bringing dogs into the office. If your workplace allows pups in the office, make sure you follow these rules of etiquette to maintain a professional work environment.
Ask Coworkers First
Even if you work in a pet friendly office, making sure that your coworkers are comfortable is important. Most people love dogs. However, some people have allergies or bad experiences with dogs that can make them feel uncomfortable around dogs. Checking with your coworkers is the best way to make everyone feel comfortable with your new office buddy.
Frequent Potty Breaks
Make sure to have a plan for potty breaks. Your dog will likely eat/drink more since they are out of their comfort zone. The best way to make for less messes or interruptions is to create a schedule to take your dog out for a quick walk.
Get Their Energy Out
To keep your workspace professional, try and get your dog's energy out before you get into the office. Go for a run, play with a ball or play tug-o-war. Anything to get that energy level down. You want your pup to be calm and relaxed while in the office, so they don't disturb you or your coworkers while you're busy.
Make Sure Your Dog is Comfortable in the Office
You know your dog best. If your pup isn't good with small spaces, barks when they see their own shadow, is uncomfortable around strangers or possibly a biter you will want to keep them at home. The best way to test this theory is by creating an office-like space in your home and seeing how your dog handles it.
Pet Proof Your Office
Just like baby proofing, our four-legged furry friends will likely need a bit of pet proofing. Do you have a chewer? Make sure you don't have miscellaneous cords hanging around or notes that they may think look tasty. Do you like to leave your door open? You can pick up a baby gate for a good price on Facebook Marketplace or at Walmart. Are you a bit nervous about an accident? Bring some pee pads. It's better to be safe than sorry. All of our dogs are different and have different needs. Just keep your dog's needs in mind.
Bring the Necessities
If your dog has a bed, favourite blanket or toys bring them over to the office so they feel comfortable and stay occupied. Make sure you bring enough dog food for the day and keep their water bowl fresh. Being well prepared will help keep your dog on their best behaviour.
Have a Back Up Plan
If your dog is having an off day, as we all do. Make sure to have a set plan for that possibility. Can you take your dog back to your home? Do you need a doggysitter or doggy daycare? Its best to have a plan in place for those 'what if' moments.
Bringing your furry friend to the office can have great benefits for you, them and the overall morale in the office. Just be sure to be courteous of the others around you and to be fully prepared for any and all doggy related possibilities.
At Wolf Law Chambers we offer one-day offices, conference rooms, and executive offices that are fully serviced. It is the perfect place for individuals or small firms that need a space and are on a tight budget. We have offices in Downtown Toronto, Oakville, and Mississauga.
Wolf Law Chambers Private Offices will help you to save time, money, and effort, so you can focus on winning cases and growing your business. Our team will provide you with a wide range of services, making us the right choice for your office needs.
Visit our website www.wolflawchambers.com for more information about our spaces.