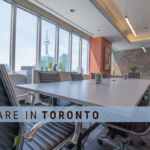 We have double the reason to celebrate this Canada Day. We have found the best place to open our Law Chambers in downtown Toronto! Our third location will be opening on July 1, 2021 (Happy Canada Day!) in the Richmond-Adelaide Centre on the 29th floor. We have a beautiful view of the city and the CN Tower. Join the Wolf Law Chambers community today and revel in the stunning views of Toronto.
Wolf Law Chambers Toronto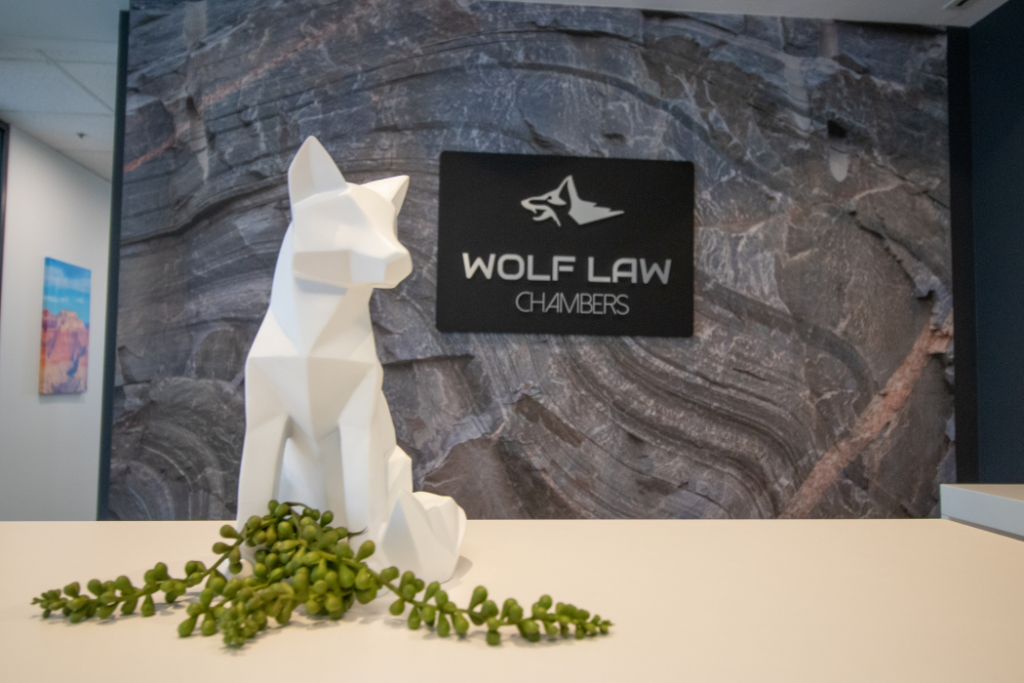 Legal professionals in Toronto will finally have access to the industry's leading services offering full-service office space for small and medium firms, which are also located in Mississauga and Oakville.
Wolf Law Chambers provides an elegant workspace to allow legal professionals to grow their business and network while maintaining their independence. We offer spacious and fully furnished private offices, secretarial workstations, and boardrooms, along with a full range of administrative and support services found in established law firms so that you can focus on your legal practice.
At Wolf Law Chambers you will belong to a community of legal professionals that actively share knowledge, experience and referrals; the ideal conditions to help your practice grow and succeed.
Wolf Law Chambers members are able to focus their time on what really matters: practicing law. We take care of the administrative tasks involved with running an office. From furnishing your office, to setting up the security system and maintenance, our professional team takes care of your packages, greets your clients and makes sure that you and your clients are in a safe and clean space, disinfecting the common areas regularly.
Your private office in Toronto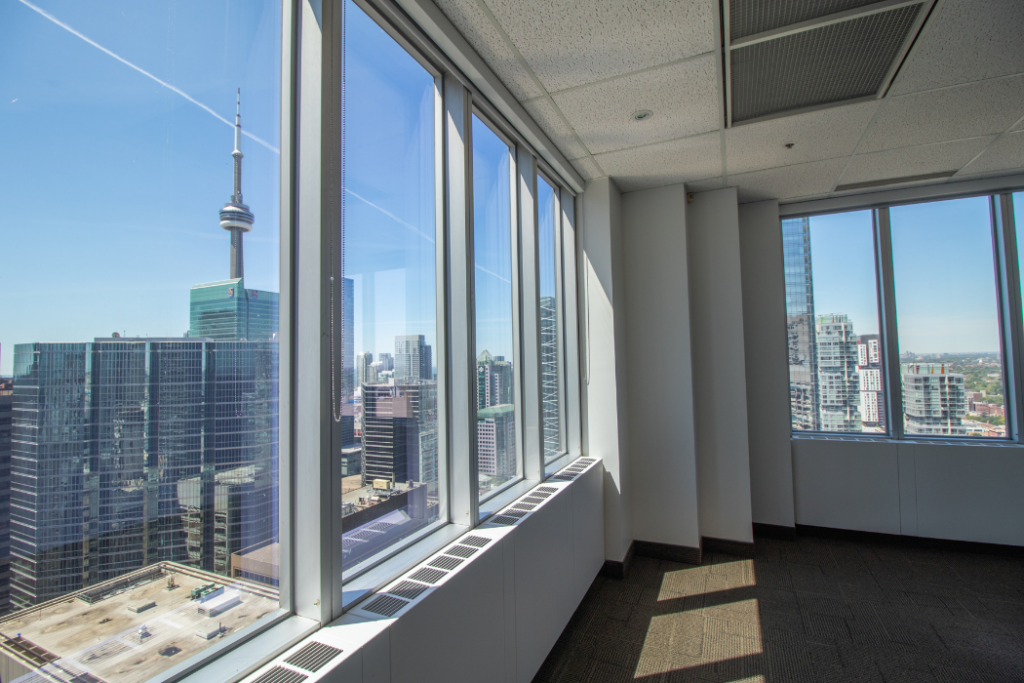 At Wolf Law Chambers Toronto you will find spacious offices with lots of natural light and big windows providing a stunning view from the 29th floor.
All you need to bring are your computer and files. The offices are furnished with L-shaped desks, lockable filing cabinets and chairs for you and your clients. We leave the decoration of the office up to you.
You can "hang your own shingle" and have your nameplate on your door and at reception.
You will have a private and secure internet connection, as well as printer, scanner and fax services. A shredding service will guarantee the safe disposal of your confidential documents.
At the front desk, our office coordinator greets your clients, receives and sends your packages and manages the maintenance of the office.
For your convenience, we have several services available online, including a booking app to book the boardroom and a messenger app to communicate with colleagues and the Wolf Law Chambers team.
Basically, with a private office at Wolf Law Chambers Toronto all you need to care about are your practice and clients.
You will have access to the office 24/7 including the boardroom. So you can meet your clients in our sophisticated/elegant boardroom after hours and on weekends.
Premium Virtual Office in Toronto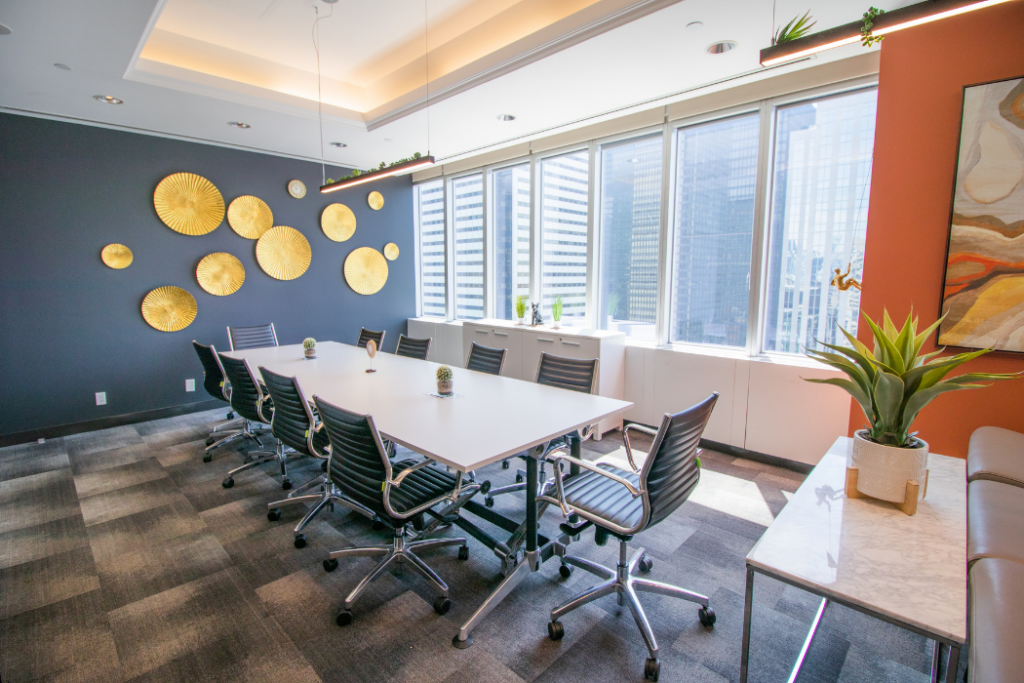 If you are looking to expand your practice to Toronto or work from home, the Virtual Office is a great option for you. You will have a professional address in the core of downtown Toronto where you can meet and impress your clients.
With a virtual office you are a member of the pack, so you will have access to our referral network and our social and CPD credit events. On top of that, we will help you to promote your practice with a micro-website and social media posts.
Like other members, our office coordinator will take care of your packages and clients, and not even notice that your office is not physically with us.
Remember: We want you to succeed!
Location, Access and Parking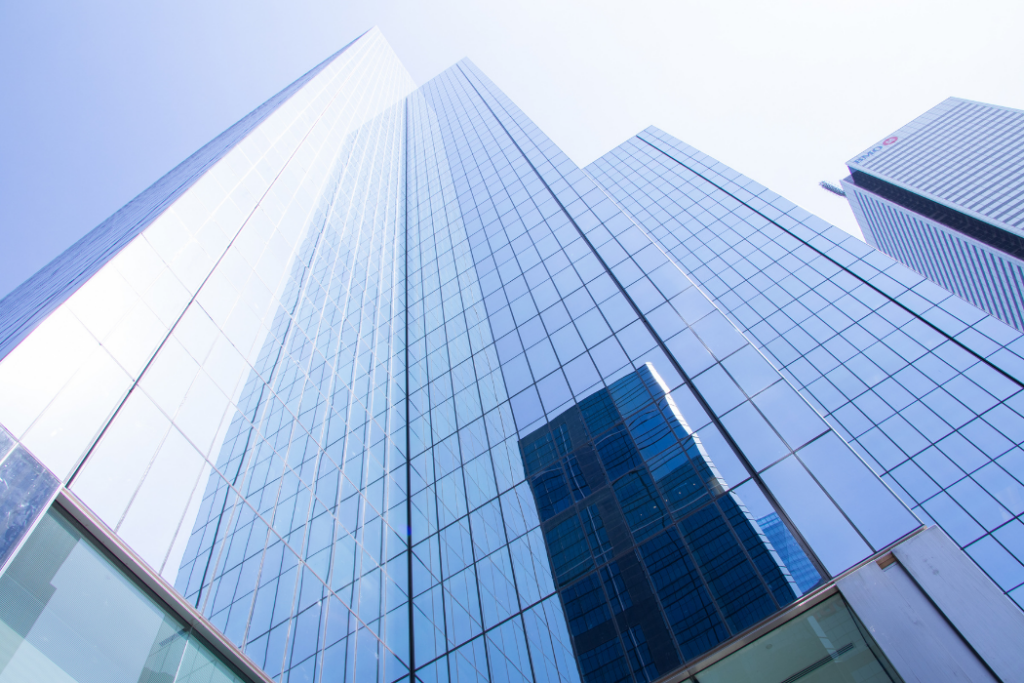 Wolf Law Chambers Toronto can be found on the corner of Adelaide St. West and York St. in the Richmond-Adelaide Centre within the financial district, steps away from the entertainment district and deep within downtown's vibrant business community.
Our offices can easily be reached by car, transit, bike or on foot.
Our building is easily accessed from the Don Valley Parkway and the Gardiner Expressway. There is underground parking as well as other nearby parking options, such as the parking lot at City Hall.
If you prefer to take transit, the King and St. Andrews subway stations are minutes away, and Union Station and the Go Transit services are close by as well. The Richmond-Adelaide Centre is also connected to the PATH that connects Toronto underground enabling you to avoid the wind, snow and rain.
If you prefer to take your bike, the Richmond-Adelaide Centre has underground bike racks and changing rooms on the premises.
Premises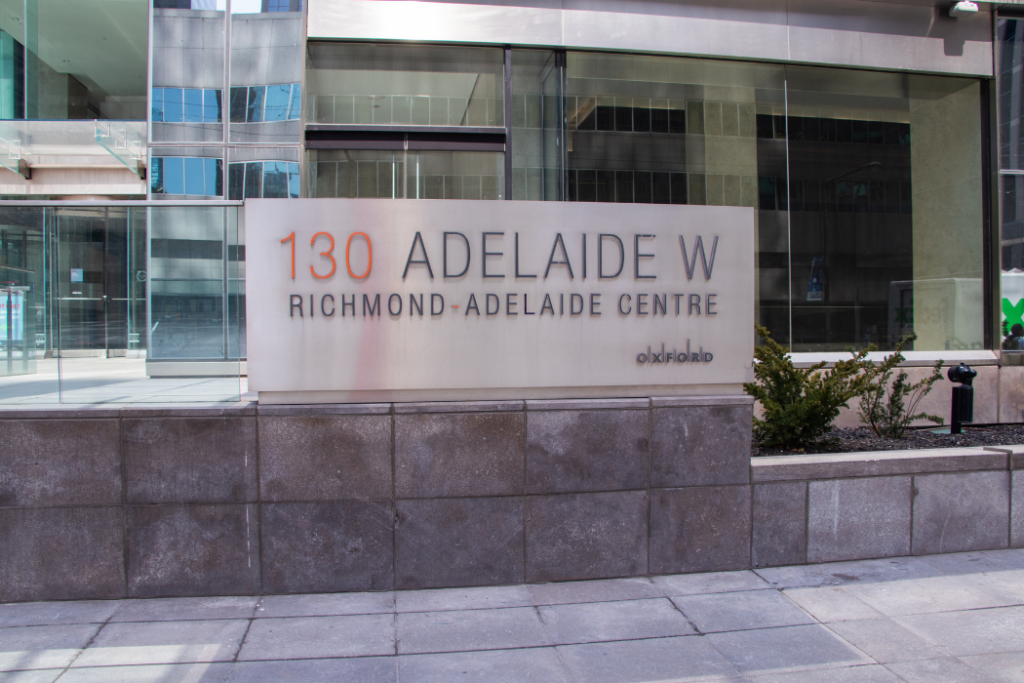 The Richmond-Adelaide Centre is a beautiful building with many amenities such as a food court, car wash and care, a fitness centre, outdoor space, and a concierge. Anything you could think of to make working away from home easier, this building has it, including dental clinics, a pharmacy and printing services.
The Richmond-Adelaide Centre has a beautiful patio and outdoor space where you can bring your food to eat and enjoy the sun. In 2020 a large sculpture, Dreaming by Jaume Plensa, was unveiled in the courtyard by Oxford Properties. Plensa hopes the sculpture will inspire all who see it to look inward, contemplate and dream of the future.
Services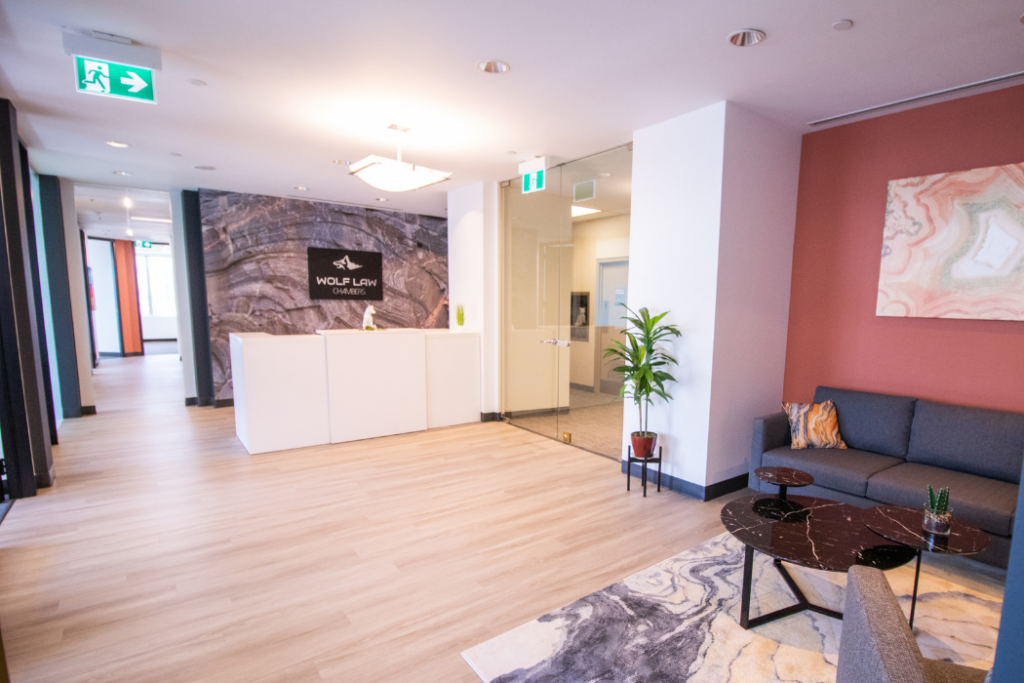 Wolf Law Chambers has many services designed to help make our members' practices run more smoothly and to free up their time to focus on the law and their clients. Included among our many amenities we have binding services available for binding court documents, live reception services where we greet and welcome clients as well as send and receive packages. As part of our community, legal practitioners also have unique access to our referral network and readily available witnesses and commissioners.
Security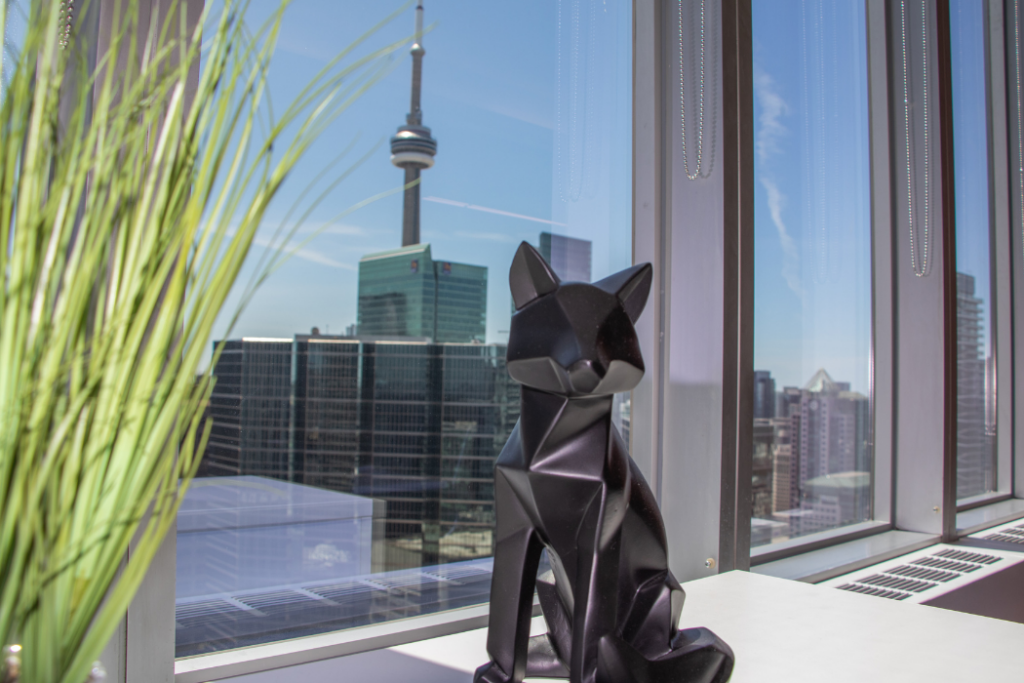 As we are lawyers ourselves, we understand the paramount importance of confidentiality and security. To that end each private office will have their own separate internet connection. All the furniture as well as the offices are equipped with locks. We have installed an internal surveillance system to maintain the security of the Chambers at all times. Confidential documents can be discarded in a locked container which will be emptied and destroyed by a certified company. Working amongst a community of legal practitioners has the added benefit of a shared understanding amongst all the members regarding the importance of confidentiality and security. There is no better or safer space to set up a law practice.
Meet Clients in a Professional and Impressive Space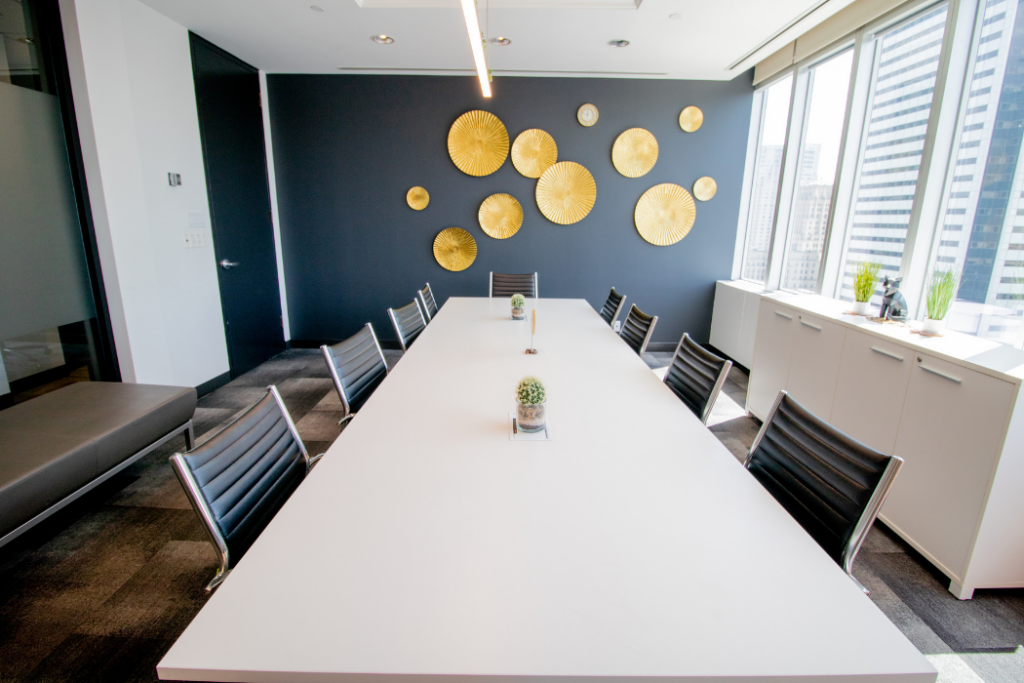 Wolf Law Chambers Toronto, like our other locations, has been exquisitely designed by the interior designers at Silver Elephant. The vibrant artwork is inspiring and motivating. Canyon-inspired walls and carpets complement the sleek finishes of the furniture. Natural light beams through tall windows and even on rainy days, the view is magical. Our boardroom combines the comfort of a meeting space, accents of Earth's natural wonders and the inspiring view of the Toronto skyline to make a space that is both functional and destined to impress your clients.
Join Wolf Law Chambers Toronto!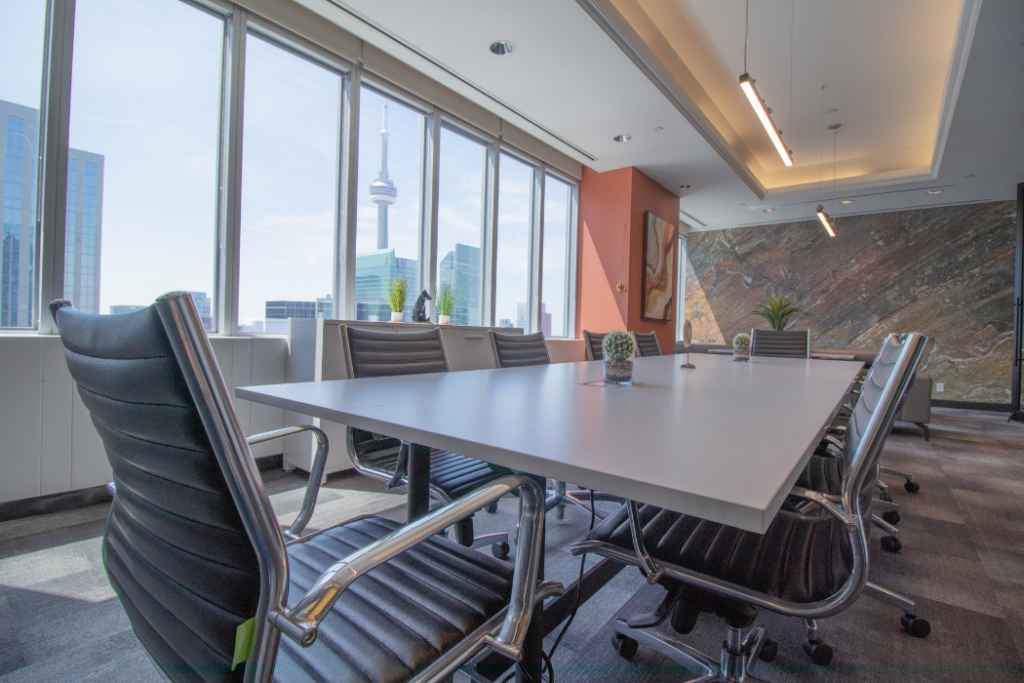 Wolf Law Chambers is the place to be. It will help you save money in a professional and safe environment. Be surrounded by people that understand what your profession demands and will help you avoid distractions so that you can grow your practice. The best thing is: you are not alone. Our regular social events and office activities will keep you connected, supported and help you decompress.
Don't waste time; schedule a tour or a phone meeting with a member of our team NOW.
Click here to schedule an in-person meeting to see our beautiful facilities.
To get more information about our services, schedule a phone meeting here.
If you want to learn more about our locations click here.
We will help you grow your practice.
At Wolf Law Chambers, we're here to help you succeed