Litigation, With Care and Compassion: Alycia Rose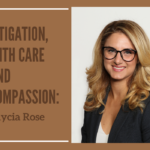 Alycia Rose of A. Rose Law specializes in civil litigation. She was called to the bar in 2017. After working for a couple of years for a few firms, she decided that she wanted the freedom and autonomy that comes with running her own practice.
In late 2019, she incorporated and started A. Rose Law. Her cases in civil litigation focus on property disputes that include real-estate, construction liens, breach of contract and debt repayment.
---
Background
Before doing her undergrad, Alycia worked part time in a hospital. She worked in almost every department, learned a lot of medical jargon and even gained the ability to read doctors' handwriting. Sheenjoyed the work and considered continuing there after school, but the desire to be a lawyer had always simmered in the back of her mind. She decided to take the plunge and go to law school. She did her research and chose the University of Leicester in England. She liked the idea of learning law from multiple jurisdictions. Within the first couple of weeks, she knew she had made the right decision. Law was her true love.
At the end of law school, Alycia came back to Ontario; she did a Masters degree in Law before being called to the bar. From her time working at the hospital, Alycia knew that she wanted to work with people who'd been affected by injury, illness, disability and mental issues, so she took a job at a personal injury law firm. The work was rewarding. While she was there, she got a lot of litigation exposure and found she really enjoyed it. Each case was different, there was a lot of interaction with clients and she loved going to court. She enjoyed the thrill of it, the nervousness as well as arguing and trying to prove a point.
So, she decided to branch out further into litigation. Her next job was at an insurance defence firm, where she mainly focused on cases within the scope of property damage. Over time this evolved and led to civil litigation which is where she spends most of her time now. She also does real estate and construction liens and has continued with some personal injury cases as well.
Be Healthy and Happy
One of her goals in life is to focus on being healthy and happy both physically and mentally. She wants the same for her clients. The common denominator from her time at the hospital and her career as a lawyer is that both jobs focus on helping people in times of emotional and physical distress. All her life she's been the person people come to for help and advice and she likes doing that, being there for friends and family. She wants to be able to do that for her clients as well as they go through events that are emotionally charged and painful. When clients come to her with their problems, she is dedicated to taking the stress away and putting it on herself. She's ok with that. She's trained for that. She has the resources and the knowledge to navigate the issues they're dealing with, and at the end of the day she's helping someone. "I'm a compassionate person and I put myself in the shoes of other people and empathize with what they're going through," she says. If she has the ability and the means, it seems to her a waste not to help people.
The Limitation Period
Litigation covers all manner of cases but the most important issue is the limitation period. The fact that there's a general two-year limitation period within which people can file a claim is not well-known. "That's probably the most important thing I do," she says, "because most of the time people don't know they've only got two years." It's not uncommon for people to come to Alycia really close to the deadline or sometimes even too late. To make things even trickier, sometimes it's difficult to decide when the date of loss was, when exactly the limitation period countdown clock started ticking.
No matter when a client comes to her, that clock regulates what she can and cannot do to preserve that client's rights and whether or not they've been precluded from pursuing those rights. It's not a very lenient piece of legislation, she admits. But when asked if that was the end of the line and there was nothing to be done after a limitation period expired, she said, "It depends on the case. There may be a way to fight it even if the deadline passed." There are things that can be done, limited options that have no guarantee of working but she's willing to try for her client's rights.
The thing she wishes everyone did was as soon as they realized something was wrong, was make a call for a consultation even if it's just to find out what the limitation period is. Although the general limitation period is 2 years, others are much shorter, some are even 10 days. "It's important to call and ask what do I need to watch out for if this incident develops into something bigger," she says.
Choosing Wolf Law Chambers
Becoming a sole practitioner can be daunting, even more so when you're a young lawyer. "You suddenly wear all these hats, not just lawyer, but also, accountant, manager, marketer, advertiser, customer service representative, IT technician…" Alycia says, "but nothing compares. It's awesome." Despite the risk of setting out on her own, Alycia is proud of herself for taking the leap.
When looking for an office to base her own practice out of, Alycia started her search with Google. Out of the several options that popped up, one was Wolf Law Chambers. She made an appointment with the owner, Dezso Farkas, and the Marketing Director, Isabel Alves. "I loved Dezso and Isabel. I really felt like I would be taken care of and respected. I felt that my career would flourish with the support that it seemed that they would be able to give me. And so far I haven't been wrong," she says.
She liked the location; it was central for her clients and easily accessible being close to the highway. She also liked that there was a second location in Oakville which she has access to. "Both offices are beautiful, especially the boardroom. Clients are always commenting on it." As a litigator, Alycia is either serving someone or being served. She laughs. "It sounds insignificant, but it's all I do." So having a receptionist available to receive packages and a process server available, as well as a courier system in place is exactly what she needed. Once she settled in, the biggest thing that stood out was that there was a sense of community and collaboration, not competition which she appreciates. Working out of Wolf Law Chambers gives her the flexibility to work from home or from her Chambers office while still being able to work collaboratively. "It goes back to my goals: have a good work life balance and [Wolf Law Chambers] is the way to do it," she says.
If you're facing litigation, if you're facing a property dispute, if you have a question about the limitation period of your case, give Alycia a call.