Julia Munk: Helping You Understand the Law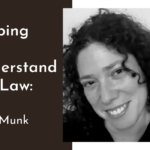 Julia Munk actively seeks to change the world by helping each of her clients understand their legal rights and the process they are apart of.
If you come away understanding the legal picture a little bit better, she has succeeded.
---
"When I was in the fifth grade my teacher asked us to draw pictures of what we wanted to be when we grew up. My best friend drew a teacher and the boy next to me drew a firefighter. I drew a stick figure holding up a sign on a stick and wrote across the top of my page, "When I grow up, I want to be a protester."
My teacher asked my why I wanted to be a protester and without a second thought I responded, "So that I can change the world."
– Julia Munk of Munk Law
---
A Change in Direction
Julia Munk originally intended on becoming a disability studies professor. She did her undergraduate degree at the University of Toronto studying political science and equity studies. This was followed by a Masters at University of Victoria where she studied Studies in Policy and Practice and Social Services. Julia was ready to graduate and continue on a professorship career path when a situation developed in her personal life that changed everything. Julia suddenly became intimately familiar with parental rights and this led her to re-examine her career trajectory. She decided that her original plan did not line up with her shifting priorities. She concluded, "I realized I wanted a career where I'm not just writing about social justice in theory, but I'm actually able to do things for people in practice that will help their lives." She decided to pursue a career in law.
Joining the Legal Community
After graduating from Osgoode Law School in Toronto in 2016, she considered the several options available to a newly-minted lawyer. The most attractive was becoming a sole practitioner. And Julia knew exactly the kind of law she wanted to practice and the types of clients she wanted to represent. Of course, Julia is glad to represent anyone who seeks her services, but she's especially passionate about reaching the people who believe legal representation is beyond them, inaccessible physically, financially, or socially.
Being a sole practitioner can be lonely, so Julia began looking for ways to plug into the legal community. She heard about the law chambers concept and immediately loved the idea. A law chambers would connect her to the legal community and put her in direct contact with other lawyers. It would give her everything she was looking for: allow her to run her own practice but not feel like she was all by herself. Julia saw an ad on LinkedIn for Wolf Law Chambers and went for a meeting to learn more about the chambers concept. The price was right and provided a professional environment to work in and to meet clients. It was important to her to have an office space that reflected the professionalism with which she approaches her career. Wolf Law Chambers stood well above rivalling office options available to her as a new law practitioner. Everybody was friendly. At the end of her visit, she thought, "This place is up-and-coming," And then, "I'm up-and-coming too." So she signed up for a virtual office.
It's proven to be a good decision. Julia has found that being part of Wolf Law Chambers reminds her that she's not that different from other lawyers. "Sometimes I think when you're working all by yourself you feel like you are," she said. She loves being around other professionals who think law is as exciting as she does. She was also immediately connected to another lawyer who consulted with her on her specialty. The benefits of Wolf Law Chambers's referral network were immediate.
Her Practice
Julia tries to make her practice as client-based as possible. "I'm trying to increase access to justice to the best of my ability to clients who would otherwise not be able to access legal services." Family law, estates issues, and human rights are the three main prongs of her practice. Within estates, she enjoys doing something for families because it's also connected to disability and capacity issues as well as protecting people's rights as they get older. Disability law and elder law have a lot of overlap which intrigues her. Within family law, her scope ranges from child protection to representing parents with disabilities and the unique challenges they face. Julia practices all types of family law and has a special affinity for helping non-traditional families navigate the system. Under the umbrella of human rights, Julia will focus on education law, family law and rights in employment. She also acts as a consultant for other lawyers, educating and enabling them to interact and represent their disabled clients effectively. In the end, every case Julia takes on is done so with the goal to increase access to justice.
Philosophy
Julia believes a lawyer should be accessible, diligent and caring. She strives to be client-focused, empathetic towards her clients' experiences, and takes time to explain the intricacies of the law to each one. She wants to help people who otherwise wouldn't utilize legal services. "It's not about disability or incapacity… Law plays a role in everyday life and I want it to be accessible to everyone." Not just people who understand it, not just people who have the means, but also for the busy mom who needs legal advice, or the individual who has a tight budget. Julia likes helping people understand the processes of law and the documents they are required to sign.
Julia wants to incorporate inclusive design principles into her practice. This means creating a legal service that is inclusive of all people. In the future, Julia envisions creating a practice for lawyers that accommodates specialties of all kinds and draws lawyers from diverse backgrounds who reflect their communities. Julia has learned that her experience, her background and who she is lends her a unique perspective to issues that others may not have thought of. It still surprises her the way her insights sometimes light up another lawyer's eyes giving them a new avenue of possibility to explore in a given case. "It's one of my favorite parts, the idea that I can bring a new idea to the table," she said.
In the End
There's law in everyday life and Julia doesn't want it to be just about ability or disability, that's not the distinction that she feels should be focused on. She wants it to be about what law can do to improve and change the world. "I still want to be a protester," she said, "but I'm trying to find practical ways of achieving that." If just one person understands their employment contract a little bit better or understands their rights a bit better after working with her, she has succeeded.
If you have previously considered legal service just out of reach, Julia is here to guide you through the complexities of the legal system with care and compassion.