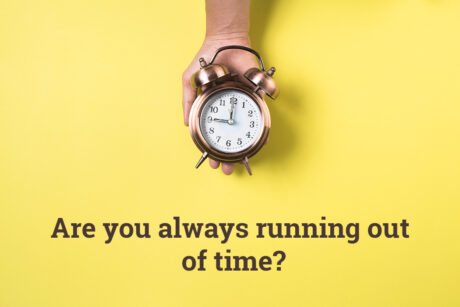 Are the current standards you have set in place the most efficient and viable in achieving your goals? Are you finding the right balance between your work and personal lives? Are you always pushing back deadlines and rescheduling matters? These are some of the questions you must ask yourself when assessing your legal practice. For lawyers, time is of the essence, no pun intended. They must prioritize their schedules in order to complete tasks on their daily agenda. There is always a constant influx of tasks and prioritization means everything when your most important assignment could be the next one you receive. Having the right skillset, tools, balance, flexibility, and procedures in place can simplify even the most complex matters allow lawyers to execute their plans proficiently. Such practices enable a firm to become more productive and this increased productivity is inevitably going to result in increased profits.
Let's examine a billing trend report to determine how much billable time lawyers are actually getting out of their workday. Lawyers are working long hours to meet productivity goals but are only billing for 29% of their workday on average [1]. There is definitely a discrepancy in this figure and how occupied a typical lawyer's schedule is. That means legal professionals are spending time carrying out tasks that do not equate to billable time. These tasks include, but are not limited to, administrative functions that are required in running your practice. Law school teaches lawyers how to carry out legal work and put their valuable legal expertise to practice. It is this knowledge and capability that allows lawyers to bill their clientele and earn an honest living. Yet, all law firms include tasks which need to be performed in order for a practice to remain functional but are not billable.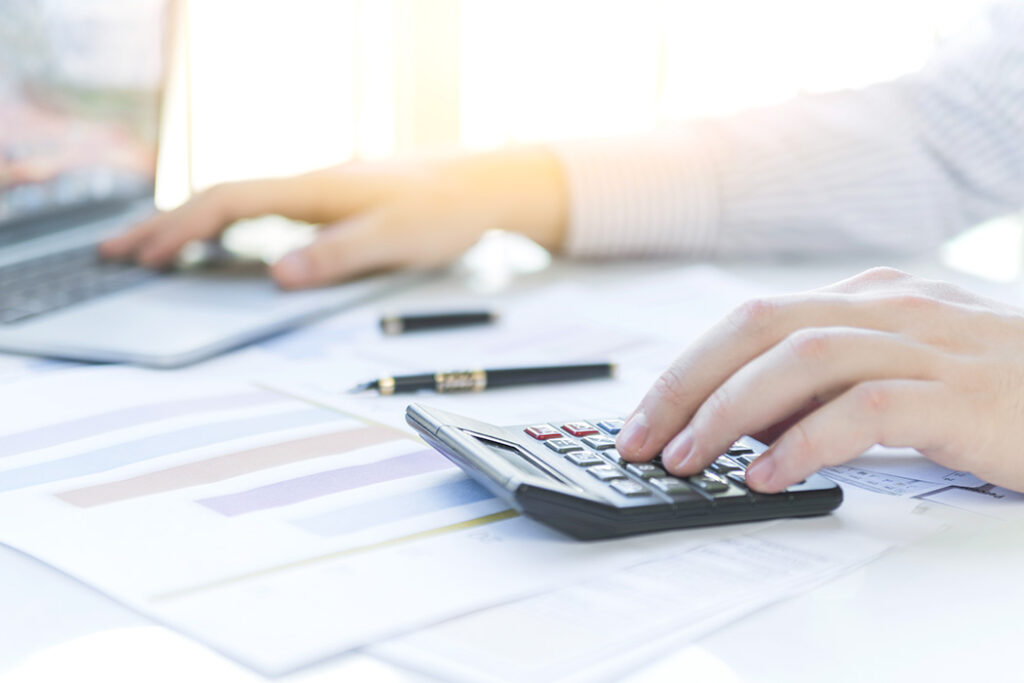 A simple business principle that can be implemented is outsourcing these tasks and leaving more time for yourself to work on assignments which can generate billable time. Bookkeeping and office administrative tasks can take up large portions of a workday but by outsourcing them to staff and paying for a particular service, more time is left for lawyers to focus on the legal matters specific to their line of work.
In realizing the proper techniques that need to be applied for running a more efficient legal practice, a quote from Mark Twain came up numerous times.
If you eat a frog first thing in the morning, the rest of your day will be wonderful.

Mark Twain [2]
and
If you have to eat a frog, don't look at it for too long.

Mark Twain [2]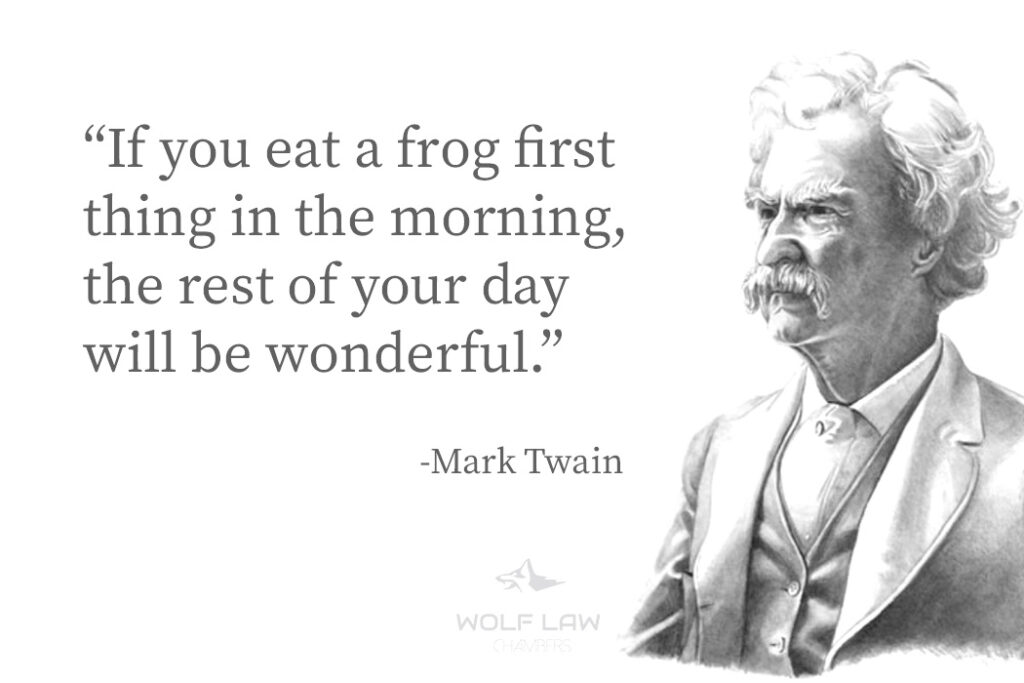 It is important to note that certain tasks can be daunting, and lawyers may push them back because they may take up most of their day. According to Twain, it is these tasks that could hold one back. Complete your most difficult assignment first thing in the morning, and suddenly, the other tasks become minute and less challenging. In doing so, you are able to prioritize your assignments, and create to-do lists for yourself in collaboration with your calendar [3].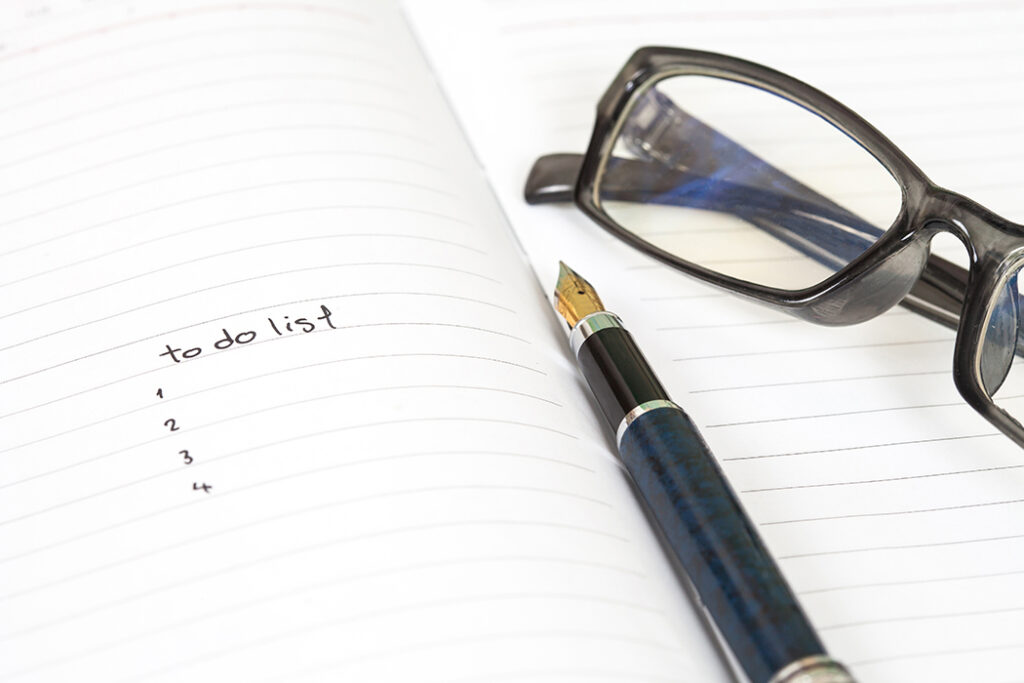 Next, eliminating distractions will give you a sense of clarity in your work/practice. It is healthy to take breaks throughout your day and refresh but being unproductive is unjustifiable. Another healthy practice is taking care of your emotional and physical health. Being mentally and physically fit will contribute to your success just as much as your skillset and business intelligence will [4]. Being able to attract clients is not the sole determinate of success for a legal practice. It is equally important to be able to work on matters for those clients on a time efficient basis. If that includes taking a break, so be it. One should be open to the idea of stepping away from their work. Research shows that our brains are capable of solving problems while we are not actively working on them [5]. Hence, stepping away from your practice may, in fact, prove to be more beneficial than harmful.
Implementing technology may also prove to be an effective practice tool in time management. Using the most adept practice management software, communication tools, and digital services can lighten the burden on you and allow you to allocate time more freely. That simple advantage separates those attorneys who surrender focus on one aspect of their work and those who are all over the place.
A workspace committed to providing lawyers with the excellent communication tools and services to improve efficiency, is that of Wolf Law Chambers. Located in the heart of Mississauga, the chambers aids lawyers through the administrative aspects of their practice. This helps facilitate growth and expansion for the lawyers in their area of practice. Come in and see for yourself how Wolf Law Chambers is innovating time management in the practice of law. Visit us as 90 Matheson Blvd. West, Suite 101 and feel free to join us for all our upcoming events and workshops.

[1] Jeffreys, Brenda Sapino. 'What Do Lawyers Really Do With Their Time?' (2017) LAW.COM. https://www.law.com/sites/almstaff/2017/09/26/what-do-lawyers-really-do-with-their-time/?slreturn=20190802200000 [2] Pfeifer, William. 'Essential Time Management Tips For Lawyers' (2018) the balance small business. https://www.thebalancesmb.com/effective-lawyer-time-management-2151357 [3] Taylor, Lucy. '7 Ways You Can Become an Uber Productive Lawyer' (2019) Nozbe. https://nozbe.com/blog/productive-lawyer/ [4] Boss Reporting. 'TIME MANAGEMENT FOR SOLO PRACTITIONERS: MAXIMIZING YOUR TIME EVERYDAY' 2016. BOSS CERTIFIED REALTIME REPORTING INC. http://bossreporting.com/time-management-for-solo-practitioners-maximizing-your-time-everyday/ [5] Case Peer. '6 PRODUCTIVITY TIPS EVERY LAWYER SHOULD KNOW' CASE peer. https://www.casepeer.com/6-productivity-tips-every-lawyer-should-know/
-Narvir Goindi