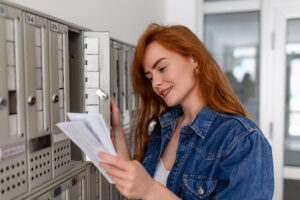 Many lawyers and law firms have discovered that physical offices aren't necessary. There are two popular options when it comes to creating your business address without a designated office. Virtual mailboxes and P.O boxes are both great ways to manage your mail. However, they do have some differences. Read on to see which option will fit you and your company best.
Differences between Virtual Mailboxes and P.O Boxes
P.O boxes are something we have all seen in our local post offices. They are physical locked mailboxes where tangible mail is delivered. People commonly use P.O boxes to keep their home addresses private.
Virtual mailboxes use a real street address that receives mail on behalf of your company virtually.
Virtual Mailboxes
When it comes to reputability virtual mail boxes give your company a real street address. Each street address is linked to a familiar commercial building in your area. This will make your company come off as reliable, credible and professional.
Virtual mailboxes are fully digital. This means you do not need to leave your house in order to pick up your mail or go through address changes in the case of a move. While virtual mailboxes are digital, you are still able to have letter mail forwarded to your home address.
With virtual mailboxes you don't just rent a mailbox, you are paying for a service. This service can include many perks some of which may include; virtual receptionists, mail management and office spaces to work from. These perks can be a real asset when it comes to meetings and business management.
P.O Boxes
P.O Boxes do not give your company a real street address. Any clients, partners or potential business partners will see that you have a P.O box rather than a "physical" location. This can come off as unprofessional and less reliable.
P.O Boxes are just a box in a post office. This means that unlike a virtual mailbox you are not able to use a professional space for meetings. The two perks that come with a P.O box are simply that they are locked boxes and that they keep your home address hidden.
When it comes to business needs such as bank accounts, taxes and certain courier arrangements P.O boxes may not work out. Most banks require your business address to be a street address rather than a P.O box. Certain couriers are unable to do drop offs in some P.O box locations. Which can interfere with the efficiency of package pick ups and drop offs.
Simply put virtual mailboxes offer more benefits than P.O boxes when it comes to having a remote business. They are convenient, practical and much more useful when it comes to business requirements.
At Wolf Law Chambers we are here to help you with your work/life balance, professional image and human interaction. We offer one-day offices, conference rooms, and executive offices that are fully serviced. It is the perfect place for individuals or small firms that need a space and are on a tight budget. We have offices in Downtown Toronto, Oakville, and Mississauga.
Wolf Law Chambers Private Offices will help you to save time, money, and effort, so you can focus on winning cases and growing your business. Our team will provide you with a wide range of services, making us the right choice for your office needs.
Visit our website www.wolflawchambers.com for more information about our spaces.