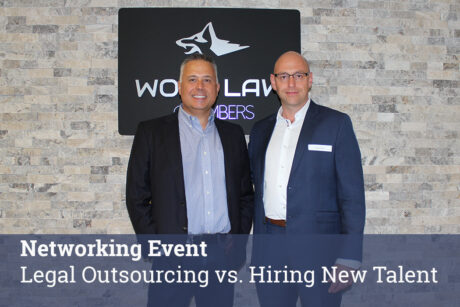 Thank you to our fellow sole practitioners, the marvellous Peter Carayiannis from Conduit Law, and most welcomed guests for joining us on Thursday, August 15th, 2019 at Wolf Law Chambers. The topic of discussion for our event was the practicality that lies in outsourcing legal work in comparison to hiring new talent. Initially, sole practitioner, Dezso Farkas, of Farkas Legal Professional Corporation, spoke on the misconceptions in the legal field about outsourcing tasks to staff or legal clerks.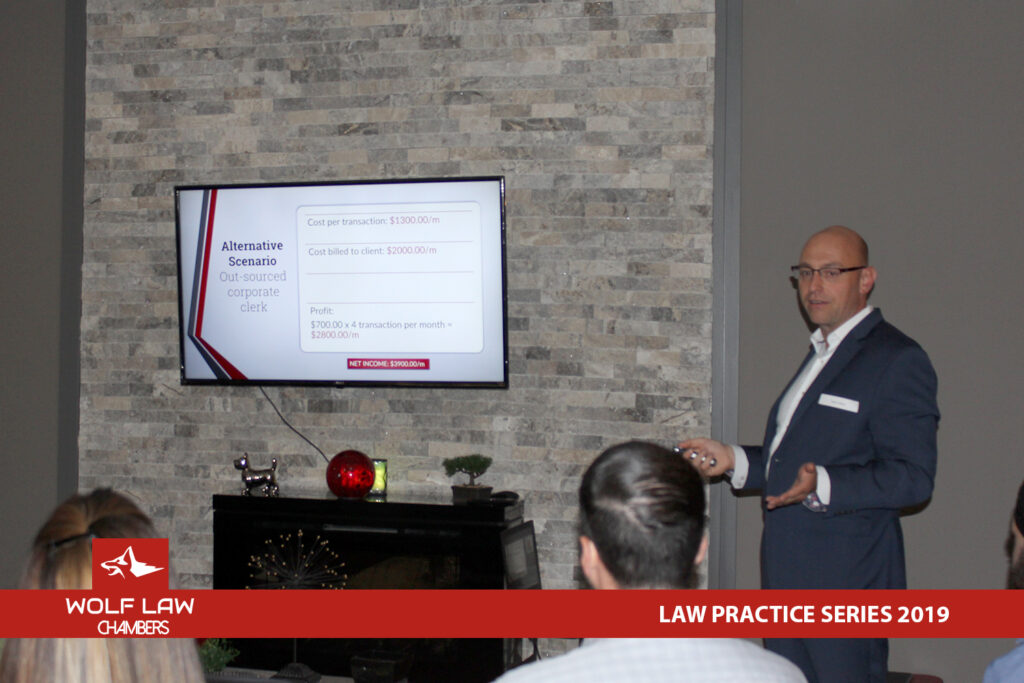 He explained how sole practitioners have a false perception that entails them carrying out every task that is part of the profession. Doing so, takes up a significant portion of their day and they are left with little to no time for billing clients. Mr. Farkas used accurate figures and analysis to depict how hours spent on practice management can be outsourced to staff and/or legal clerks to spend more time on actual legal work that can be billed. This leaves room to yield higher returns immediately, and is significantly compounded over longer durations of time. Legal outsourcing may seem like a discouraging practice as one has to shell money out of their pocket at first, but the time left to actually work on files and bill clients summons more profits for legal professionals.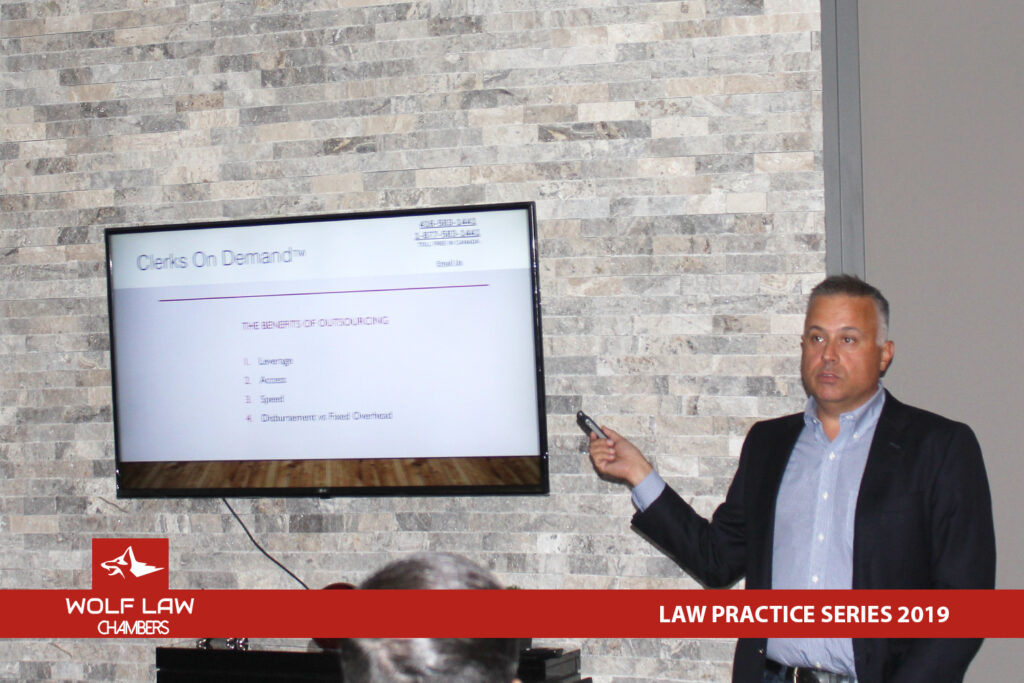 Peter Carayiannis from Conduit Law and Clerks on Demand outlined the many advantages legal outsourcing can have on one's legal practice. He explained the differences between hiring new talent and outsourcing tasks to a company like Clerks on Demand. Essentially, hiring new talent thoroughly involves a recruitment process, training that has to be given, dealing with employee needs, and the constant thought of an employee leaving, leading to the whole process occurring again. Legal outsourcing, on the contrary, encompasses the passing of particular tasks to a professional and certified legal clerk, who is capable/experienced enough to complete assignments on their own. They can even be hired for a particular task or a specific period of time, allowing sole practitioners to leverage their time accordingly. Lawyers can then apply themselves to other facets of their practice, which in turn, allows for a yield of more returns. Peter brought up an interesting point during his presentation. He insisted that the audience understand the practicality behind outsourcing certain tasks of their legal practice. If a lawyer is not serving their client's needs by performing a certain task, it should be outsourced to a legal clerk who can take care of it, while the lawyer works on more important matters, that serve the client's legal needs directly.
Many of the sole practitioners present at the event saw the immediate benefits from outsourcing various areas of their practice to staff or legal clerks, and by doing so, being able to better focus and serve client needs. Some lawyers even noted the benefit in taking on more tasks than they would normally be able to handle by simply hiring clerks. Peter's company, Clerks on Demand, allows lawyers to do exactly that. They can hire clerks at any time to assign tasks that they may not want to carry out and/or have the resources/time to complete. They would still be able to supervise all operations without having to indulge completely. With that said, any aspect of legal practice that does not serve the purpose of going to law school and receiving a legal education, can be contracted out, allowing lawyers to leverage their time accordingly.
A workspace designed to provide sole practitioners many opportunities to leverage their time efficiently is Wolf Law Chambers. The Wolf Law Chambers team incorporates innovative technological practices in their office to allow for rapid communication between lawyers, staff, and clientele. They also offer many services to sole practitioners deciding to join them, such as easily accessible office coordinators, marketing specialists, and process servers. These individuals are staffed to allow lawyers within the chamber to focus on what really matters: serving their client's needs and executing the legal work that they specialize in.
We loved the turnout for the event and hope to continue seeing both familiar and new faces for the future. We have a workshop coming up again on Tuesday, August 27th, 2019 from 6-9 P.M. with guest speaker, Humza Adam of HFactor Solutions. Humza will be providing business development and marketing strategies for both lawyers and paralegals. We hope to see you soon!
Come in and see the exceptional services Wolf Law Chambers has to offer for you and your clientele. Currently, there is a Wolf Law Chambers location in the heart of Mississauga, and we are proud to announce the opening of another location at 227 Lakeshore Road East, Suite 408, in downtown Oakville. Wolf Law Chambers is dedicated to being easily dependable and providing sole practitioners with all the resources they need to succeed in the legal profession. Please feel free to book a tour and join us in building a community of sole practitioners striving to set new standards.